Bohemian Damask Red Bath Towels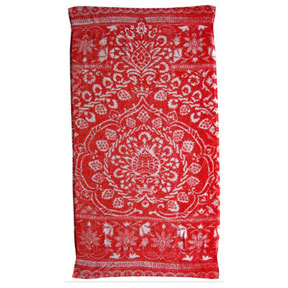 Bohemian Damask Red bath towels from Fresco are stylish luxury. These plush bath towels, hand towels and washcloths will add a pop of color to any bathroom. Highly absorbent, exceptionally soft, and long lasting. Why spend all the time designing and decorating your bathroom and then settle for a plain towel? Fresco Towels offer you the opportunity to add one more beautiful and essential touch to your majestic world inside your bathroom. Enjoy!

Made in the U.S.A., Fresco Towels is an entirely family-run business. They are strong advocates for supporting the local and domestic U.S. economy. Based in Los Angeles, California, Fresco Towels employs local craftsmen with many years of experience in the world of fine textiles.