Zebra Yellow/Platinum Chubby Bowl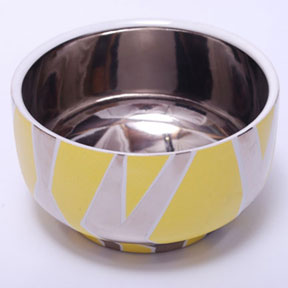 Zebra print bowls are a stylish accent with stripes in gold and colors. Mini, small, medium and large chubby bowls have a deep well, great for holding candy, chips, or potpourri. Designed, glazed and sculpted using the vast library of Waylande Gregory's work, each piece is produced by trained artisans in Peru according to the highest standards. Hand crafted from high-fired porcelain and stoneware using rich matte glazes, 22k gold and platinum. Waylande Gregory pieces resonate beauty, simplicity and perfection. Please allow two to three weeks for delivery.
---
I am sorry, but the category you requested is no longer available.