The easy care Orchard tablecloth is woven using special ringspun polyester for a soft hand, creating a fabric that feels just like well-loved cotton. With a graceful scrollwork design and treated with a stain-resistant finish, they are great for everyday use. Note: square and large round tablecloths are only sold in white and ivory. Made in India by Sferra Fine Linens. Machine wash and dry.
Custom sizes available
We recommend a 10-12 inch drop. Please add 20-24 inches to both the length and width of your table (for round tables, add 20-24 inches to the diameter), as this will add the drop length to each side. Choose the standard size that is closest to these dimensions. Please also allow for a 4-6% shrinkage rate.



Common tablecloth sizes and corresponding table dimensions: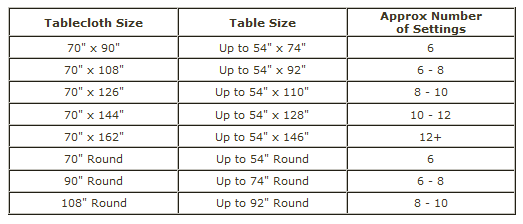 Special return policy for this collection:Custom items may not be canceled, returned, or exchanged.
View our Return Policy.