The easy-care Palace table linens have a graceful medallion motif on a soft gold background. All tablecloths (except round) are finished with a five-inch border. The placemats are finished with a two-inch border. Made of 55% cotton/45% polyester fabric, Palace never needs ironing.
Please allow two to three weeks for delivery.
Click to read about this collection
in the
Gracious Style blog.
Turkey. 55% Cotton/45% Polyester. Machine wash and dry.
We a recommend at 10-12 inch drop. Please add 20-24 inches to both the length and width of your table (for round tables, add 20-24 inches to the diameter), as this will add the drop length to each side. Choose the standard size that is closest to these dimensions. Please also allow for a 4-6% shrinkage rate.



Common tablecloth sizes and corresponding table dimensions: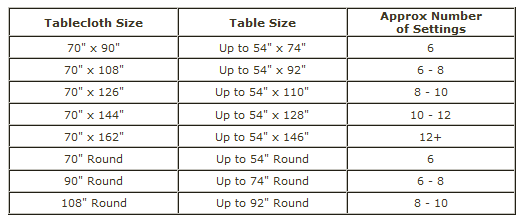 We a recommend at 10-12 inch drop. Please add 20-24 inches to both the length and width of your table (for round tables, add 20-24 inches to the diameter), as this will add the drop length to each side. Choose the standard size that is closest to these dimensions. Please also allow for a 4-6% shrinkage rate.



Common tablecloth sizes and corresponding table dimensions: