The first time I saw Peacock Alley's Vienna Collection, the stunning beauty immediately captivated my attention. The elegant pattern, the soft finish, the perfection in every detail – I knew wanted a piece for my own home. After ogling beautiful images and planning the perfect layout for my own boudoir, it became time to experience this perfect, plush cloud for myself.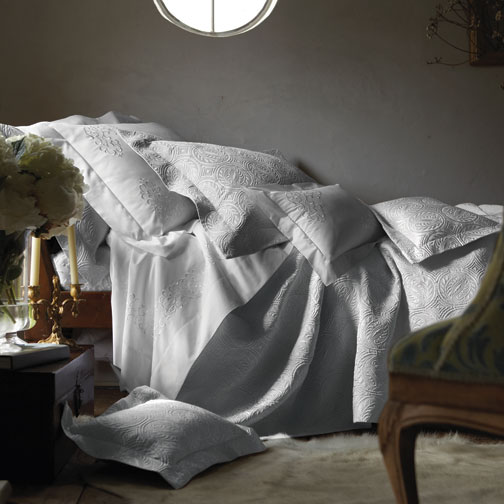 While the name is inspired by the classic beauty of Austria's largest city, the compelling medallion quilted pattern was derived from a 17th Century French uniform button. With a swirling, leaf-like pattern inside each perfect circle, the intricacy of this extraordinary collection is as refined and delicate as lace. Choosing the piece and color I preferred most was a difficult decision.
I carefully selected a coverlet in the Taupe color, and eagerly awaited its arrival. As soon as I got the box through my front door, I opened the package and unfolded this masterpiece; And just like a fine work of art, this matelasse was even more lovely in person than it appeared in the photographs.
The subtle sophistication of the pattern and smooth finish of the fabric were welcome additions to my bedroom. I carefully laid the dreamy coverlet across my bed, and waited for nightfall. As the hour grew later, just one yawn was reason enough to usher me to bed.
As I draped myself in the most luxurious beauty and comfort, my eyelids drifted shut, lulling me to sleep. The texture was soft, the fabric lightweight, and the color so subtle that nothing could keep me awake. I took a deep breath in, calmed my senses, and felt this soft, silent beauty cloak me in peace and tranquility.
And for just one moment, I was almost certain I could hear the faint melody of a Viennese Waltz, inviting me into the sweetest of dreams.
Like this post? Sign up for our email list to get news and special offers!
https://www.GraciousStyle.com/wpblogs/wp-content/uploads/2014/05/vienna.jpg
313
346
Carolina
https://www.GraciousStyle.com/blogs/wp-content/uploads/2016/06/logo-550x252.png
Carolina
2014-07-15 12:00:27
2014-05-23 13:55:42
Peacock Alley's Vienna: A Truly Dreamworthy Matelasse