The Internet is an exciting place these days for decorators.  Here are three of our favorite ways to help you find products, organize them, and get inspired.
Pinterest.com is like a virtual bulletin board; we use it often for decorating or party planning. You can pin photos from almost any website, comment on them, and share them with friends. You can also allow others to join in, so you can help your sister design her wedding reception even if you live across the country.

Here's what a Pinterest board looks like: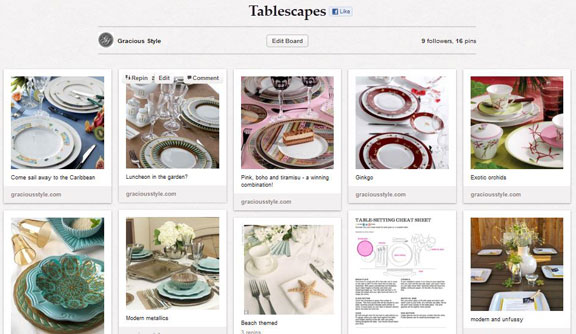 To view the items we are playing with, you can follow Gracious Style on Pinterest here.  And anytime you see this button on our website, it means you can add the photos to your inspiration board.  It's that easy!

Another great decorating website is Houzz.com.  In addition to allowing you to add photos from around the web, Houzz also lets you create ideabooks with notes around your pictures.  It's a great way to share your designs online, and if you have a blog or website, Houzz makes it easy to publish your ideabooks directly.
Here's what a Houzz ideabook looks like:
A third site we love is Polyvore.com. As with Houzz and Pinterest, you can add photos and products from around the web, or browse items that are already on Polyvore. The most exciting feature about Polyvore is that it allows to you to create some pretty amazing collages (also known as "sets").
Here is an example of a set on Polyvore (called Sunroom by parislover):
If you're new to Polyvore and want to see what we're doing there, you can follow us here.
Some of these sites even have iPad apps, so you can easily use them while you're on the road.  We hope you have fun getting inspired!
Like this post? Sign up for our email list to get news and special offers!
https://www.GraciousStyle.com/wpblogs/wp-content/uploads/2011/10/Pinterest-board-example.jpg
334
576
Shannon
https://www.GraciousStyle.com/blogs/wp-content/uploads/2016/06/logo-550x252.png
Shannon
2011-10-25 22:45:10
2013-02-18 12:16:37
Getting Social with Your Decorating: Pinterest, Houzz, and Polyvore