Time to replace your old, worn-out bath towels?  Maybe you're redecorating and need a new, bold color?  Or you're looking for a great wedding or hostess gift.  Whatever the question, we're sure these beautiful new bath towels from Sferra Fine Linens are the answer.
"Bello" means beautiful in Italian, and the Bello towel ($14-$118) lives up to its name.  Woven from the finest cotton, Bello bath towels are super absorbent and have a wide honeycomb patterned, dobby border.   Sferra developed a brand new method of dyeing that keeps color bright wash after wash.  The Bello towel is the first to use this new process.  With twenty-four stylish colors to choose from (yes, you heard us right!), you're sure to find several to complement any bath.  There are several bright, fun colors that would work great for kids' bathrooms.  (We especially like the yellow and poppy colors.)
The Bello towel comes in a 40 x 70 bath sheet, so you can wrap yourself in plush luxury.  Other sizes include a 28 x 59 bath towel, 20 x 30 hand towel, 20 x 35 tub mat and a 12 x 12 washcloth.
If the Bello tub mat just isn't soft enough, the Maestro bath rug ($104-$139) is designed to coordinate perfectly with Bello towels, in the same range of twenty-four colors.  Crafted in a century-old mill in Portugal, this 100% cotton bath rug is fully reversible. One side is tufted for an ultra soft feel; the other is thick loops for a texture that's firm yet plush.  Maestro comes in two sizes: a 20 x 31 standard bath mat, and a 23 x 39 large size.
Last but not least, the Molto towels ($14-$118) are the same plush, 100% cotton as Bello.  They are available only in pure white and ivory, in the same sizes as the Bello towels.
To keep your new towels looking bright and feeling soft wash after wash, we recommend LeBlanc Towel Wash.  It's specially formulated to clean luxury bath towels, mats, rugs and robes while protecting the fibers from drying out or losing wicking ability.  Bath linens will remain luxuriously soft, strong and absorbent.  All LeBlanc products are low sudsing and safe for use on HE (high efficiency) machines. Each 64 oz bottle is $34 and will clean 32 loads.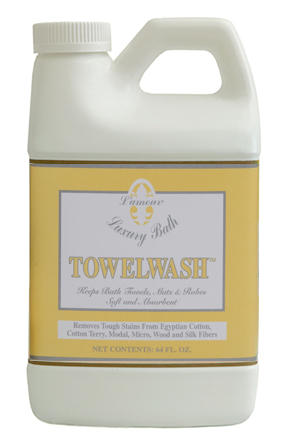 If you've been waiting to redecorate your bathroom, we hope you're inspired by the rainbow of colors in these great new bath collections.  We also have a full line of bath accessories in many colors and patterns.  To see more, visit our website at www.GraciousStyle.com.
Gracious Style is an online retailer of sophisticated, high-quality products for every room in the house.  We love helping others create warm and welcoming rooms for themselves.  To read more, visit our blog.