What is about those Italian guys, always so smooth, suave, and charming?
It might have something to do with the shave: Italian men take shaving very seriously.  The Romans were cleanly shaven and regarded everybody else barbarians — literally, someone with a beard.  During the Middle Ages, barbers in Italy were trusted confidants and advisers, like the barber in Rossini's Il Barbiere di Siviglia.  Today, shaving is truly an advanced art form in Italy, and it shows.  Just look at what a great shave these famous Italians have:
Silvio Berlusconi from DealBreaker.com
The traditional Italian shave is a complicated ritual involving, of all things, olive oil.  Fortunately, Proraso has made this into a simple system for the rest of us.  Here's how the modern Italian shave works.
First, you dampen your face and apply the Pre-Shave Cream, which softens the beard and helps the razor to slide smoothly over the skin.  Let it rest for a bit and really sink in.  The distinctively refreshing Menthol tingle that Proraso is known for ought to make the little time-out quiet pleasant: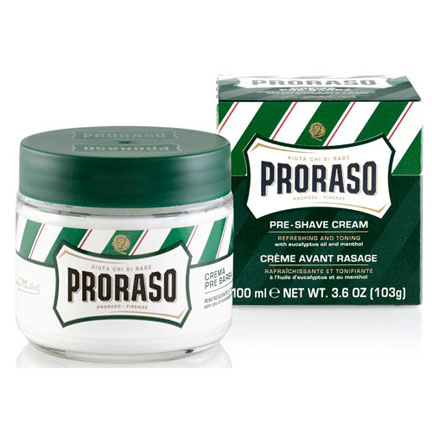 Then, apply your choice of  Shave Cream …
… Shave Foam –  this is a smooth and rich foam with just the right consistency, and with it my Gillette Mach 3 is giving me a much closer shave than I've ever had before.  Plus, after shaving, it doesn't leave a thick residue in my razor like my old shaving gel did:
or Shave Soap.
For a truly Italian shave, we recommend the Shave soap, which must be applied with this simple little brush:
Next, wash your face and apply the After Shave, but doesn't "Lozione Dopobarba" make it sound better?
Proraso also makes specialized products for those of us with sensitive skin
Or who have a beard, "Barba Dura" — masculine yet refined in that Italian way:
Try it, and let us know if your face says "Grazie!"
Like this post? Sign up for our email list to get news and special offers!
https://www.GraciousStyle.com/blogs/wp-content/uploads/2013/01/SILVIO-BERLUSCONI1.jpeg
320
530
sichen
https://www.GraciousStyle.com/blogs/wp-content/uploads/2016/06/logo-550x252.png
sichen
2013-01-09 10:39:09
2013-10-22 15:00:10
How do Italian Men Shave?