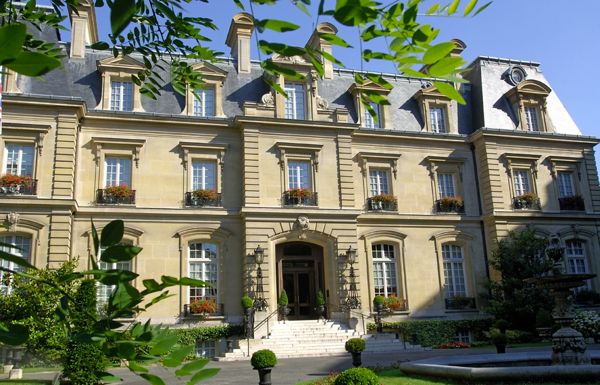 From the outside, the Saint James Paris looks like a traditional Neoclassical chateau in a quiet residential neighborhood. But thanks to a recent makeover by designer Bambi Sloan, however, the interiors tell an entirely different story. With leopard print carpets, pattern on pattern, and bold color galore, Sloan has given hotel's interiors a wonderfully theatrical update.While there are a few rooms here and there, that are more on the traditional side, most are fun and fearless. Sloan definitely had a blast re-imagining the hotel and it shows. It's a reminder not to take decorating too seriously. Why waste time agonizing over fabric swatches and rug samples? Let loose, go bold, and enjoy the unique results. Design is a creative expression after all. Plenty of bold ideas here to inspire your own rooms: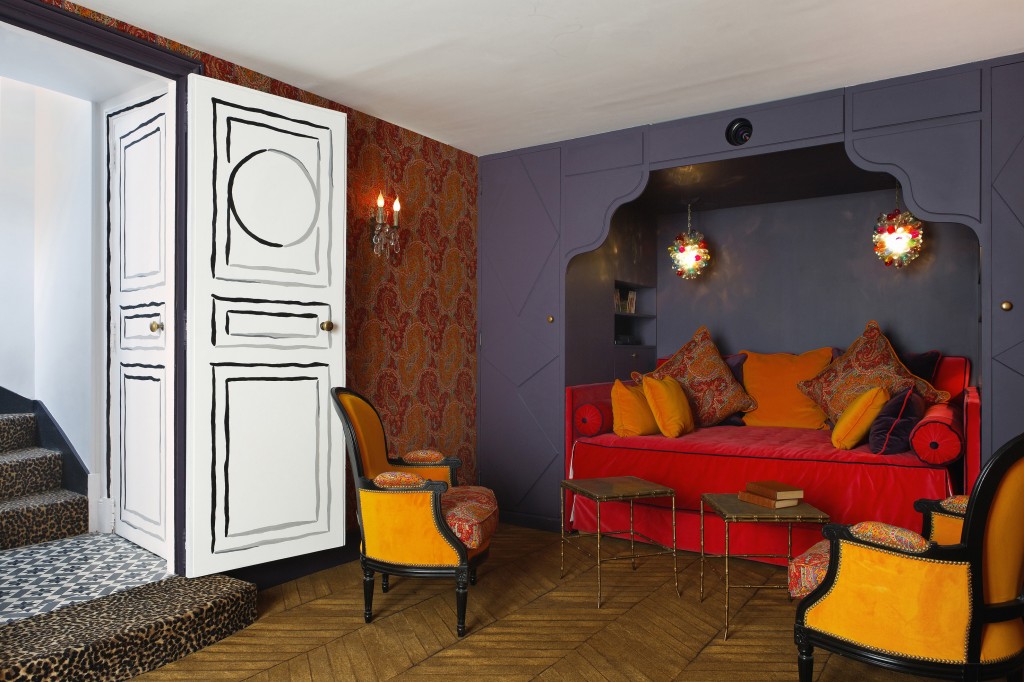 Need Architectural Details? Paint Them On: Why waste money replacing a perfectly fine standard flat door?  Painting the panels on with loose brushstrokes is quirky and cool.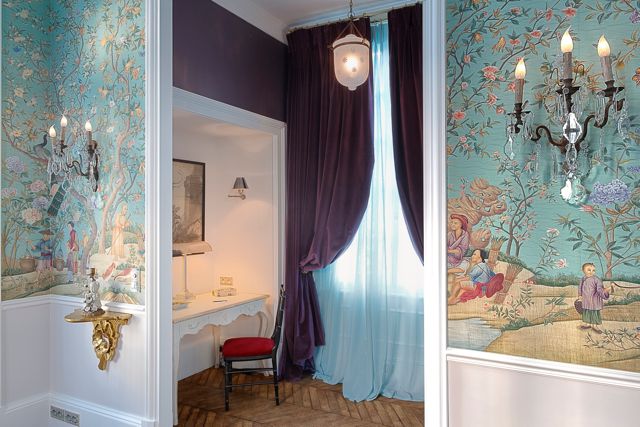 Scenic Wallpaper Enlivens Any Space: Especially in a hallway or foyer, scenic wallpaper adds color, dimension, and lots of personality to a space.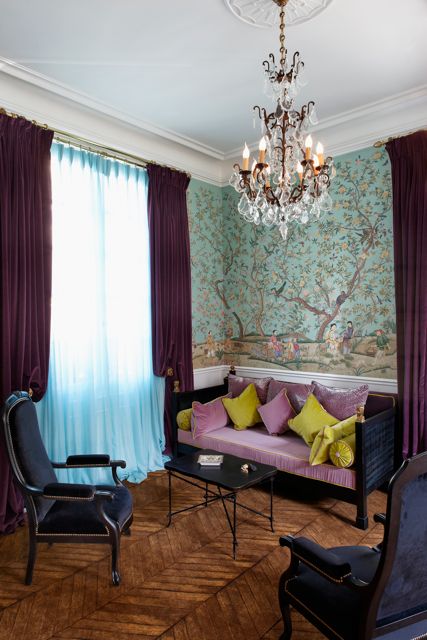 All Colors Work Together: Take a cue from nature and pair a variety of colors together without worrying too much about coordinating. Here light blue, purple, lime green and navy share space with a vibrant wallpaper. The magic is that it works. Not everything has to go together in the traditional sense.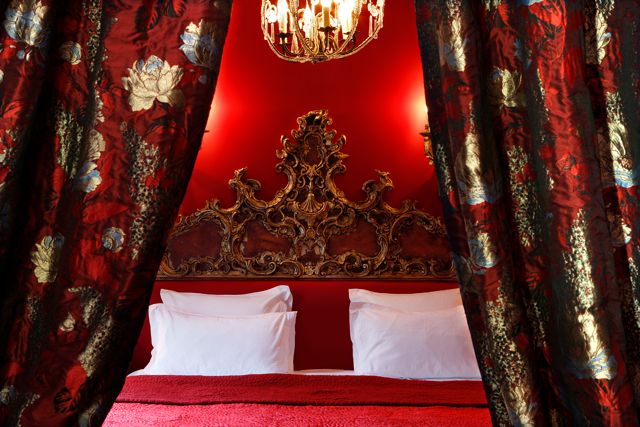 Red Always Adds Drama:  Want to create a dramatic, theatrical space in an instant? Layer on the red and add in the gilt. It is totally dramatic and hey, maybe just a bit like a bordello, but it definitely creates a mood.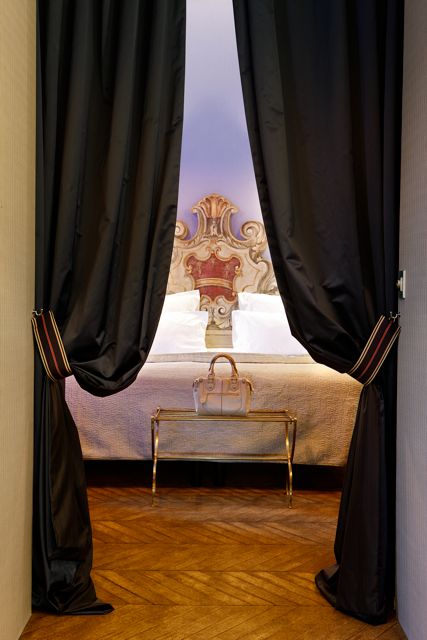 Sneak a Peak: In a small space, doors can just take up much needed square footage and well, they are so…expected. Curtains separating one room from the next add some flair to a space. They also beautifully frame the adjoining room. Bonus if you can center a fabulous headboard in the middle.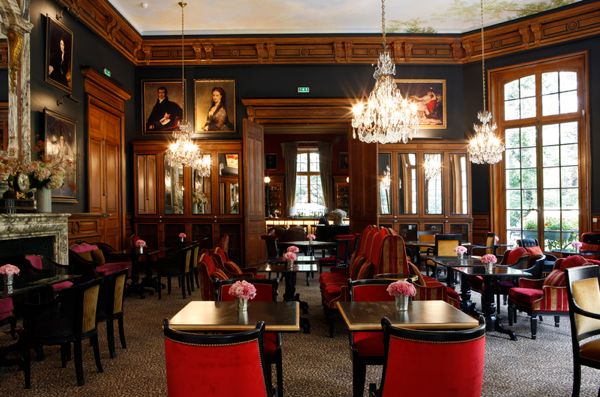 Leopard Prints + Red = Fabulous: I've seen this combo in libraries and dens before and I always love it. It's sophisticated while not taking itself too seriously. The perfect backdrop for multiple martinis.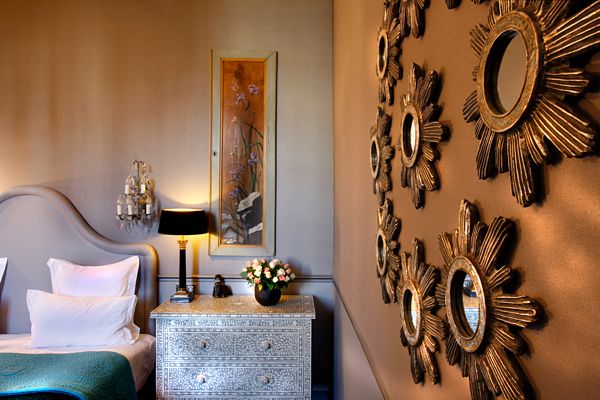 One is the Loneliest Number: There is power in multiples. A dozen or so starburst mirrors make a gorgeous graphic statement along one wall.
All images courtesy Saint James Paris
You Might Also Like: