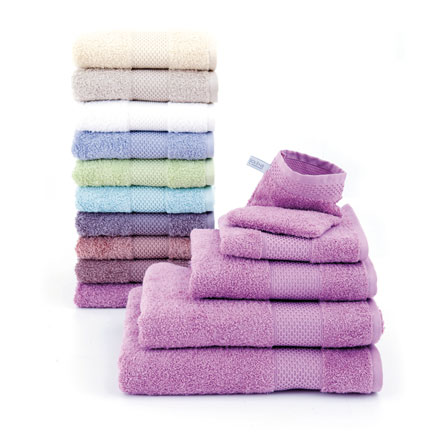 Terry cloth is a fabric with uncut loops, or pile, deliberately standing away from its ground base. Terry cloth is usually seen in bath towels and bathrobes. Terry cloth is woven using two warp beams: the ground warp, which forms the base of the towel, and the pile warp, which creates the loops of thread that give the fabric its texture and function.
These loops effectively increase the surface area of the fabric, enhancing its absorbency, while maintaining a soft feel.
Terry cloth is traditionally made from cotton, but it can also be made from different materials such as silk, linen or other natural and artificial fibers.
Most manufacturers choose cotton because, unlike other materials that get weaker in water, cotton's absorbent fiber gets stronger when wet. In fact, cotton can absorb 20 to 30 times its own weight in water. The loop pile acts as a sponge while withstanding squeezing, pulling, rubbing, twisting and turning.
Because of its absorbency attributes, terry cloth is commonly used for towels, bath robes, beach cover-ups, athletic warm-ups and headbands. Terry cloth can easily be dyed or printed, as well as decoratively embroidered.
One of our favorite terry cloth towels is Sferra's Bello, woven in Belgium and offered in 31 vibrant colors. Bello towels are woven with shorter loops and greater loop density to make them more absorbent than the average towel.
These shorter loops also help avoid snags. Bello also uses a special dye process that makes it fade/chlorine resistant.
Like this post? Sign up for our email list to get news and special offers!
https://www.GraciousStyle.com/wpblogs/wp-content/uploads/2013/05/Anndesolene_bath_pastels_fs.jpg
432
432
Shannon
https://www.GraciousStyle.com/blogs/wp-content/uploads/2016/06/logo-550x252.png
Shannon
2013-06-03 12:17:59
2013-06-03 12:17:59
What is Terry Cloth?