Ever wonder why a down blanket or comforter is so warm and comfy on a cold winter night?  It's because they're made from one of nature's best insulating materials.  Tucked safely under the long feathers of ducks and geese, down is actually many soft, fluffy plumules which connect with each other through thousands of strands of fiber.  As these plumules connect with each other, they create little pockets of warm air which provide an incredible amount of insulation without a lot of weight.
If you're thinking about investing in a down comforter or pillow, here are some basics to keep in mind.
Understanding Down Basics
What is down?
Down clusters, often simply referred to as down, are the three-dimensional plumage found under the belly feathers of ducks and geese. They are nature's finest insulation, allowing waterfowl to remain warm even in the most frigid environments. Down clusters have a center core with fibers extending outward from the core, but unlike feathers there is no spine. The three-dimensional quality traps air and maintains warmth without a great deal of weight. Down is very breathable and allows moisture to evaporate quickly.
What are feathers?
Feathers are the plumage found on the outside of waterfowl; they have a two-dimensional quality with a shaft running vertically through the feather. The contoured shape of feathers provides a supportive quality which makes them appropriate for use in sleeping pillows, decorative pillow inserts and feather beds. They are generally not used for insulating purposes.
What is fill power?
Fill power is a numerical designation for the volume one ounce of down occupies. The higher the value, the more volume the one ounce will occupy. Fill power also provides an index for determining the lofting, insulation properties and quality of the down.
Fill power is directly related to the size of the down cluster.  Large down clusters occupy more space than smaller down clusters, and they trap more air between the clusters.  This trapped air is what gives down its insulating properties.
The size of the bird and the climate in which it lives determines the size of its down cluster.  The colder climate, the larger the down cluster required to keep the bird warm.  For example, it is colder in Canada than it is in Hungary; therefore, Canadian birds need larger down clusters in order to stay warm.
What kinds of shell materials are used for down bedding?
Like with all bedding, both thread count and material are important for the fabric shell of the duvet and pillow cover, because they determine how the item feels against you.
But for down items, the fabric shell has added importance: this is what keeps the down inside and potential allergens, dust, and bacteria out. A higher thread count fabric shell will protect your down better and keep it cleaner. The most common down covers are made from cotton; silk and eco-friendly materials are also available.
Are there alternatives to down?
If you're allergic to down, there many options made from synthetic, hypoallergenic material designed to imitate the clusters of natural down.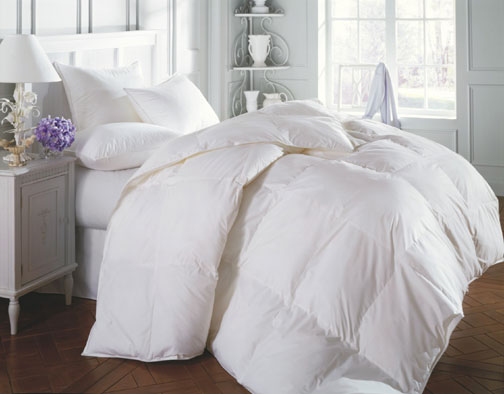 Choosing the Right Comforter
It's easy to find a comforter that's just right for you. For an unparalleled sleeping experience, you should consider these two factors:
1. YOUR LEVEL OF WARMTH
To select the ideal comforter, you should consider such factors as season, climate, heating system and thermostat setting. Most of our classic comforters are now offered in three weights to best suit your needs.
Summer Weight: Ideal for the warm sleeper, warm climates or when the room temperature is above 70°F.
All Year Weight: The most popular choice, this all-season comforter is perfect for year-round use and for those who keep their bedroom temperature between 60°F and 65°F.
Winter Weight: Ideal for the cold sleeper, cool bedrooms, very cold climates and for those who prefer extra warmth during the winter season.
2. YOUR LEVEL OF QUALITY
Comforters are available with different qualities of fills and shells. The most affordable generally feature more common fills and lower thread count shells, while the most expensive use rare, exotic fills and finer fabrics.
Introductory: Our most affordable down comforters features a 233 thread count cover filled with 560 fill power white down (example: Mackenza comforters)
Classic: These classics feature a soft, 300 thread count cover filled with high loft, and 600 fill power white goose down, guaranteed to provide many years of warmth and pleasure (examples: Cascada Summit, 3-in-1 Anytime, and Buxton comforters)
Best Value: Opting for lasting comfort and value? The comforters in this class offer remarkable quality and sumptuous softness. A high quality white goose down with large and plump clusters, our 650 and 700 fill power white goose downs, provide luxurious warmth with minimum weight. Choice of 330 or 383 thread count cotton sateen gives the finishing touch to this amazing selection (example: Nirvana, Continental, and Somerset comforters).
Supreme: Exceptional superiority, the 700 and 800 fill power is one of the word's finest downs. Premium clusters of down deliver superior loft and maximum warmth with minimal weight. Moreover, our silky smooth downproof fabric is made in Europe using the exclusive SanProCare process, known to enhance temperature regulation, absorption and release of moisture, and superior durability (examples: Bernina, Himalaya, and Cardigan comforters).
Ultimate: When only the very best will do; our most magnificent comforters offer unparalleled luxury, warmth and craftsmanship. The very largest, softest 920 fill power Siberian, Canadian white goose down, or Eiderdown paired with a choice of Batiste lightweight fabric- or our 100% Pure Silk, Flowering Vine pattern cover, introduce you to the incredible lightness of warmth. These opulent comforters result in extraordinary comfort and promise luscious sleep for years to come (examples: Logana, Eliasa, Snowdon comforters).
Down Alternative: Filled with Comforel, Innofil, and other similar fibers, these hypoallergenic microfiber fills offer down-like comfort, loft and softness at a more economical price than down. Perfect for sleepers who are allergy prone (examples: Sierra, Astra, Arcadia, and Anti-Allergy Down comforters).
Tencel Ecofriendly: The combination of high quality 650 fill power white goose down and a Tencel® lyocell cover offers you easy-care comfort that's soft on you and the environment. Tencel® lyocell is a natural fabric manufactured from wood pulp from Eucalyptus trees, which is extremely silky to the touch, has a very soft finish and is noted for its durability, light weight and strength (example: Innutia comforters).
What are the different kinds of comforter construction?
Comforter construction provides the performance features and aesthetic appearance of a comforter.
– Baffle boxstitch construction utilizes vertical walls of fabric between each box; allowing the fill to achieve its greatest loft and a smoother surface texture.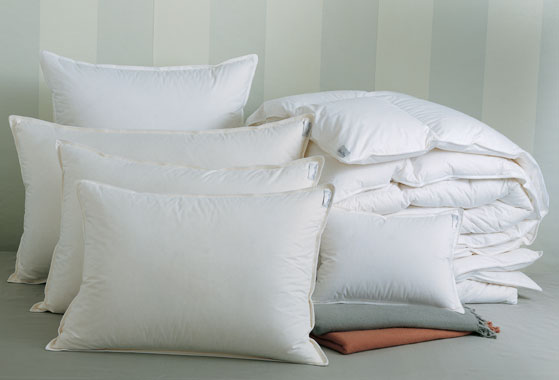 – Sewn-thru boxstitch construction features end-to-end closed boxes that are stitched closed to prevent shifting of the fill material. The box shape is more visible because the top and bottom layers of fabric are sewn together.
These baffle boxes actually have an important job: In addition to giving the duvet a puffy checkered quilting, they help keep the down remain evenly distributed throughout the duvet cover.  Otherwise, the down feathers may fall to the bottom or sides of the duvet, leaving the center cold and empty.
Choosing the Right Pillow
Choosing the right pillow is essential to a good night's rest. In order to decide which pillow is right for you, there are two factors you need to consider:
1. YOUR FIRMNESS LEVEL
Your specific sleeping style will determine the firmness of your pillow.
– Stomach sleepers should choose a soft, plump pillow to cushion and gently support the head and neck.
– Back sleepers should choose a medium pillow to position the head and neck in line with the natural curvature of the spine.
– Side sleepers should choose a firm pillow to provide more support and properly align the head, neck, and shoulders.
2. YOUR PREFERRED FILL TYPE
Down: Down is nature's best fill and insulator. The most luxurious pillows are filled with white goose down.
– Because down is so lightweight, it's one of the most comfortable fills for pillows and comforters.
– Down pillows are shaped for comfort and support and mold to your head and neck.
– The higher the fill power, the higher quality the pillow.
– Down pillows last longer and hold up better than synthetic fills.
– Down breathes well, lifting moisture away from the sleeper.
Down/Feather Blend: Down/feather pillows are firmer than down filled pillows. They are an excellent choice for those who want a firmer support.
Comforel/Down Alternative Fill: A wonderful hypoallergenic microfiber fill that offers down-like comfort, loft and softness, at a more economical price than down. This fill is perfect for sleepers who are allergy prone.
What are the different kinds of pillow construction?
Sleeping pillows are generally constructed using either single chamber or multi-chambered compartmented shells.
– Single construction pillows place the fill material in one area. The fill options for single chambered construction include down, feather/down blends, and down alternative fibers.
– Multi-Chambered compartmented construction provides multiple internal chambers for housing the fill material.  For example, some pillows feature feather cores surrounded by down exteriors.
Caring for Down
How do you care for down comforters and pillows?
With proper care, your down comforters and pillows should last many years.
– Pillows and comforters should always be used inside a cover. For additional protection, pillows should be used with a pillow protector.
– Fluff your pillows and comforters every day when you make your bed.
– Comforters may be spot cleaned for spills and aired out occasionally.
– While frequent washing is not advised, down products may either be washed or dry cleaned. Dry cleaning should only be performed by a company experienced with down products, as dirty cleaning fluid will cause the down to clump, lose its lofting ability and occasionally develop a mild odor.
– Wash in a front-loading commercial capacity washer. Avoid machines with agitators, as these are too rough and can tear the baffles.
– Use a low sudsing detergent or a product specifically designed for washing down products (like Le Blanc Down Wash). Do not use bleach or fabric softener.
– Run through the rinse cycle twice to remove all soap.
– Place in large capacity dryer on the lowest heat setting and dry for 3-4 hours. If you'd like, place a couple of clean tennis or dryer balls inside the dryer to help fluff the down. Dry well beyond the point where the outer fabric feels dry, as you want to make sure that the down clusters are fully dry.
– Allow the comforter to air dry for an additional 24 hours before placing it inside a duvet cover. If you notice any lingering odors or clumping, place it in the dryer again and continue to dry it.
– We do not recommend cleaning down more than twice a year.
Want to learn more?  To shop for down, click here to view all our down and down alternative products.  To shop for cleaning solutions, click here to view our down and linen care products.
Like this post? Sign up for our email list to get news and special offers!
https://www.GraciousStyle.com/wpblogs/wp-content/uploads/2014/07/loft_power_bgrnd.jpg
320
450
Carolina
https://www.GraciousStyle.com/blogs/wp-content/uploads/2016/06/logo-550x252.png
Carolina
2014-07-21 12:00:08
2017-11-14 14:58:34
Guide to Choosing Down